The 2019 Cellerant Best of Class Technology Award winners
Original article by Dental Economics here!
Author – Chris Salierno, DDS
We are, no doubt, practicing dentistry during a technological revolution. It's not easy keeping track of all of the devices, software, and materials on the market and then making buying decisions based on our research. Who can place some semblance of order on this revolution? The Cellerant Best of Class selection committee shares in that dubious honor. Paul Feuerstein, DMD; John Flucke, DDS; Marty Jablow, DMD; Pamela Maragliano-Muniz, DMD; and I lock ourselves in a room at Chicago Midwinter each year and vote on which technologies are truly innovative and best in their categories. Along with Cellerant leadership Lou Shuman, DMD, CAGS, John Kringel, and Lauren Burns, we emerge hours later, battered and beaten, with our list of winners.

The selection process can be contentious. For example, you'll see that there is not a selection in the CAD/CAM category. We only choose a winner if we feel a particular technology is significantly ahead of its competition, and as you can imagine, that leaves a lot of room for debate. There is often less debate in the Emerging and New Winner categories. Some technologies are one of a kind and allow us to see and do things we never could before. Others enter a crowded market with features that boldly distinguish them from the competition.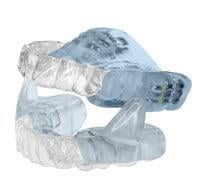 I'm fascinated by small, start-up companies that are betting their businesses on new products and by large, established companies that had their research and development teams forge into new territory. How does a company figure out what dentists need? I spoke with two of the winners to get some answers.
Alice Limkakeng, CEO of start-up company SleepArchiTx, had an extensive medical tech background, so she was aware of the challenges associated with CPAP devices for patients with obstructive sleep apnea. "When I learned dentists could treat these patients with effective, minimally invasive oral appliances, I thought, 'Why aren't these flying off the shelves?'" She continued, "I quickly learned of the challenges dentists face in trying to work with medical doctors and in medical billing, so we went to work on an integrated, turnkey solution to help dentists succeed."
That turnkey solution includes clinical training, home sleep testing, diagnosis by a medical professional, medical billing, and a mandibular advancement appliance, all packaged together. Each of these services had existed before, but this is the first time they've been put together more seamlessly for the dentist and the patient. This is innovation by identifying clinicians' frustrations.
Dental, on the other hand, has been making articulating papers and other occlusion test materials since the early 1950s. Andre Bausch, managing director, says his idea for a digital occlusal device was born about 20 years ago: "But the technology to develop a really thin pressure sensor coated with color, being used just like a regular occlusion film, was not ready at that time. Now, using organic printed electronics technology, we are able to introduce the first flexible 6-micron thin pressure sensor." This is innovation from thinking about how to make your already popular product even better.
The Cellerant Best of Class Technology Awards are about celebrating innovation in all of its forms. As you look through the list of winners, you'll see some familiar names that remain the best in their class. You'll also discover new technologies from new and established companies that are worth your investigation. What all of these winners share is that they represent a great leap forward. They were born from a moment of inspiration, years of R & D, and a desire to be best in their class.